200A Digital Microhmmeter
200A Digital Microhmmeter
For your professional measurements of microresistances.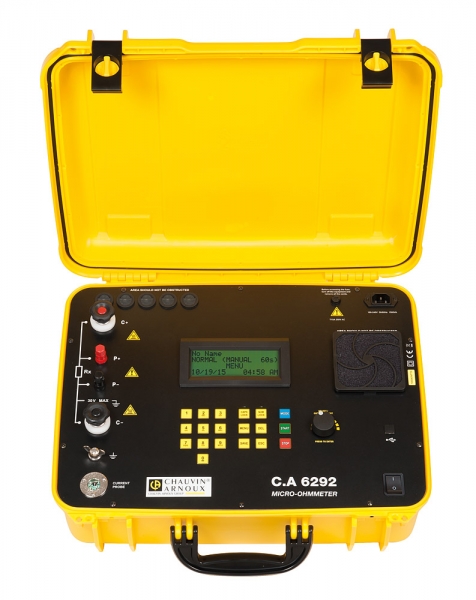 New!
● Resolution: 0.1μΩ
● Adjustable test current up to 200 A
● Automatic mode: 50 A, 100 A, 150 A and 200 A
● Unlimited test duration up to 100 A
● Safe measurements: Both Sides Grounded method (BSG mode)
● Internal cooling system
● Storage of up to 8,000 measurements
● Communication with PC via USB
● Site-proof case for difficult environments
The C.A 6292 micro-ohmmeter is a portable measuring instrument supplied in a rugged, waterproof site case. Its clearly-identified connection terminals limit the risk of
errors and allow quick connection of the measurement leads.
The measurement results are displayed instantaneously on the backlit LCD screen for easy reading. The C.A 6292 can be configured directly using the rotary knob on the instrument or via a PC by means of the USB link.
more information
Reliable measurements
The four-wire measurement method, based on Kelvin's principle, makes it possible to eliminate the errors due to the test-lead resistances and the contact resistances. This means the C.A 6292 offers excellent measurement accuracy for low resistance values, thanks to its 0.1 μΩ resolution and its accuracy of approximately 1%
for measurement. The test current can be adjusted up to 200 A, as required. The C.A 6292 can also record up to 8,000 measurement results.