IR Camera 250°C
For your professional thermal analysis.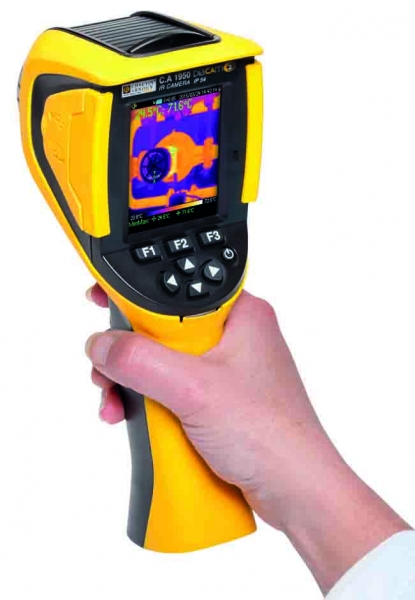 NEW!
Campo di misura: -20°C + 250°C

2,8"

LCD

Display

Detector resolution: 80 x 80 pixels
Frequency: 9Hz
MixVision function for IR and Real Image fusion (software)
Bluetooth interface
Internal memory of around 4.000 measurements (on micro SD card)
The new C.A 1950 IR Camera model is ergonomic and simple tu use.
Thanks to its Bluetooth interface it's possible to transmit and visualize on real-time on its display, the main values (V, I, Ripple, etc.) of the below listed instruments:
- F407-F607
- MTX 329x Serie ASYC IV
more information
3 seconds only to start up!
13 hours of continuous operation!
Focus free with 20°x20° field of view
Vocal annotations to record your comments directly on the image
Connection to current clamps and multimeters: all the ncessary measurements simultaneously!